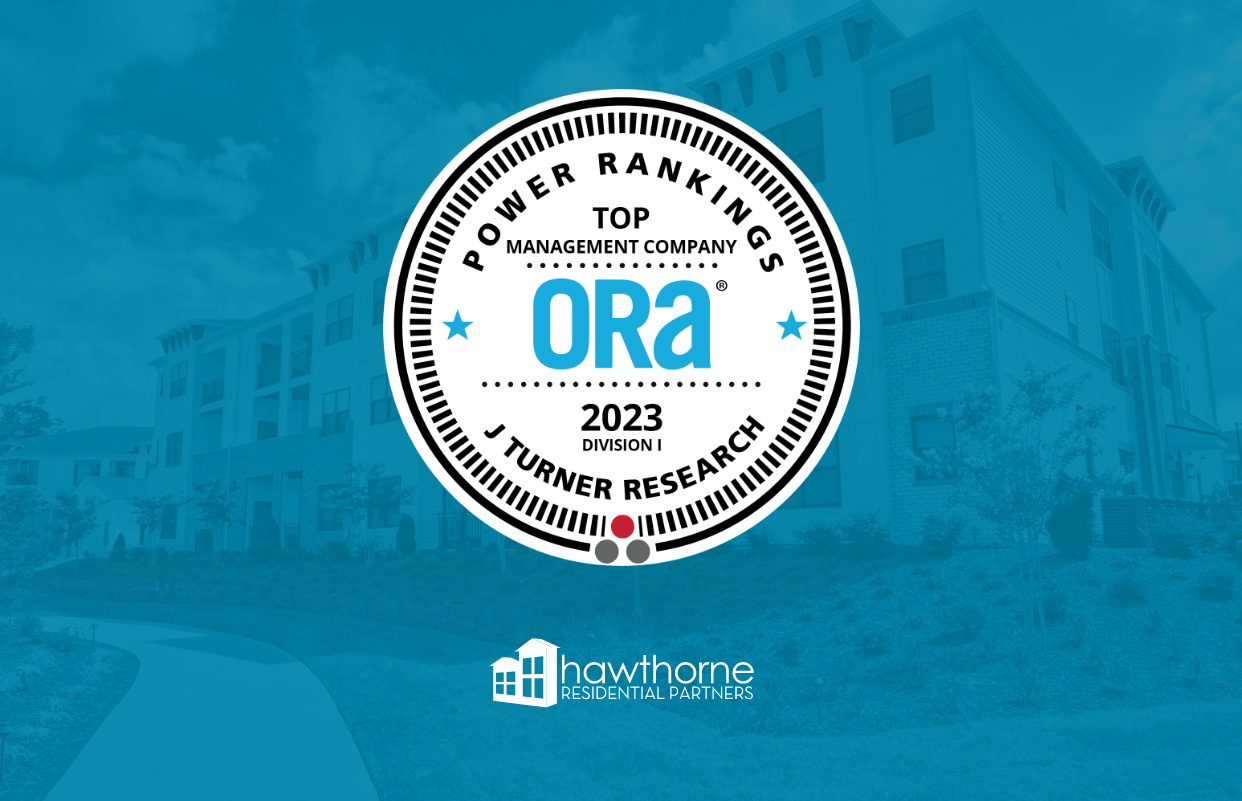 Hawthorne Residential Partners, a fully integrated multifamily investment, management, and development company of high-quality apartment properties, has been recognized with the most prestigious award for online reputation success in the industry by Multifamily Executive magazine and J Turner Research.
Hawthorne Residential Partners is ranked number one in the nation for online reputation in the 2023 Division I ORA®  Power Ranking – Top 10 of the NMHC Top 50 Largest Apartment Managers by J Turner Research. The annual Division I Ranking features the top managers in the NMHC Top 50 list based on their Online Reputation Assessment (ORA®) Score – the multifamily industry standard to measure a property/company's online reputation. J Turner Research is the leading market research and online reputation company exclusively focused on the multifamily industry.
Hawthorne Residential Partners scored a companywide ORA® of 87.29 in the 2023 ranking, all while growing their portfolio by 22% the same year. It topped the Division I ranking in 2022 as well marking its second consecutive win.  Further, 45%+ of Hawthorne's portfolio was featured in the Elite1% ORA Power Ranking announced earlier this year.
To qualify for the Division I ORA® Power Ranking, a company must be featured in the NMHC Top 50 Managers List. The top 10 companies are determined based on their ORA® Scores as of April 2023. The average ORA® score of the Top 10 managers is 82.30. The national average ORA® Score is 63.12.
Sam Davenport, Founding Principal and President of Hawthorne Residential Partners said, "These awards are possible because of our teams. We believe in leaving people better than you found them and this award is a true testament of that 'Live It' mindset. I am so grateful for all the hard-working teams that make such a positive difference in their residents' lives and for those residents that have been willing to share their story online with the world."
"Winners in the Division I ORA Power Ranking are the nation's largest apartment managers who have diligently worked hard to provide the best-in-class resident experience. When residents are satisfied, it positively impacts a property's reputation, boosting leasing and renewal efforts. Hawthorne has consistently focused on customer service, and its success is evident in the company's high ORA scores. ORA is a single score representing a property's online reputation across multiple review platforms. Congratulations to Hawthorne on winning the top honor among the NMHC 50 Managers for the second consecutive year," said Joseph Batdorf, President of J Turner Research.
Developed by J Turner Research, the ORA® Power Ranking is based on monthly online reputation research of over 132,000 properties' lifetime reviews across multiple review sites and Internet Listing Services (ILSs). Using a statistical model, J Turner assigns an independent ORA® Score to each property on a scale of 0–100. The ORA® Score was developed to simplify how online reputation is measured, and it serves as the multifamily industry standard to measure a property's online reputation.
ABOUT J TURNER RESEARCH
J Turner Research is an independent research company focused exclusively on the multifamily industry for almost two decades. It is the only company to monitor the online reviews and ratings of 132,000+ properties nationwide. J Turner pioneered the Online Reputation Assessment (ORA®) score, which serves as the multifamily industry standard to measure, benchmark, and compare a property/company's online reputation. The company is the national leader in enhancing resident satisfaction through intelligent resident and prospect survey programs, quantifiable action plans, customized training, and review response service. For more information, visit www.jturnerresearch.com.
ABOUT HAWTHORNE RESIDENTIAL PARTNERS
Hawthorne Residential Partners is a fully integrated, multifamily investment, management, and development firm.  Headquartered in Greensboro, NC, Hawthorne manages over 200 communities and 50,000 units across eight states in the Southeast and Texas. Hawthorne has a robust investment and management platform, operating a portfolio valued at over $10B. The company was founded in 2009 based on the "Live It" difference — a daily commitment to go above and beyond for associates, partners, and the thousands of individuals that are proud to call a Hawthorne community home. To learn more, visit www.hrpliving.com.
Featured article
next article