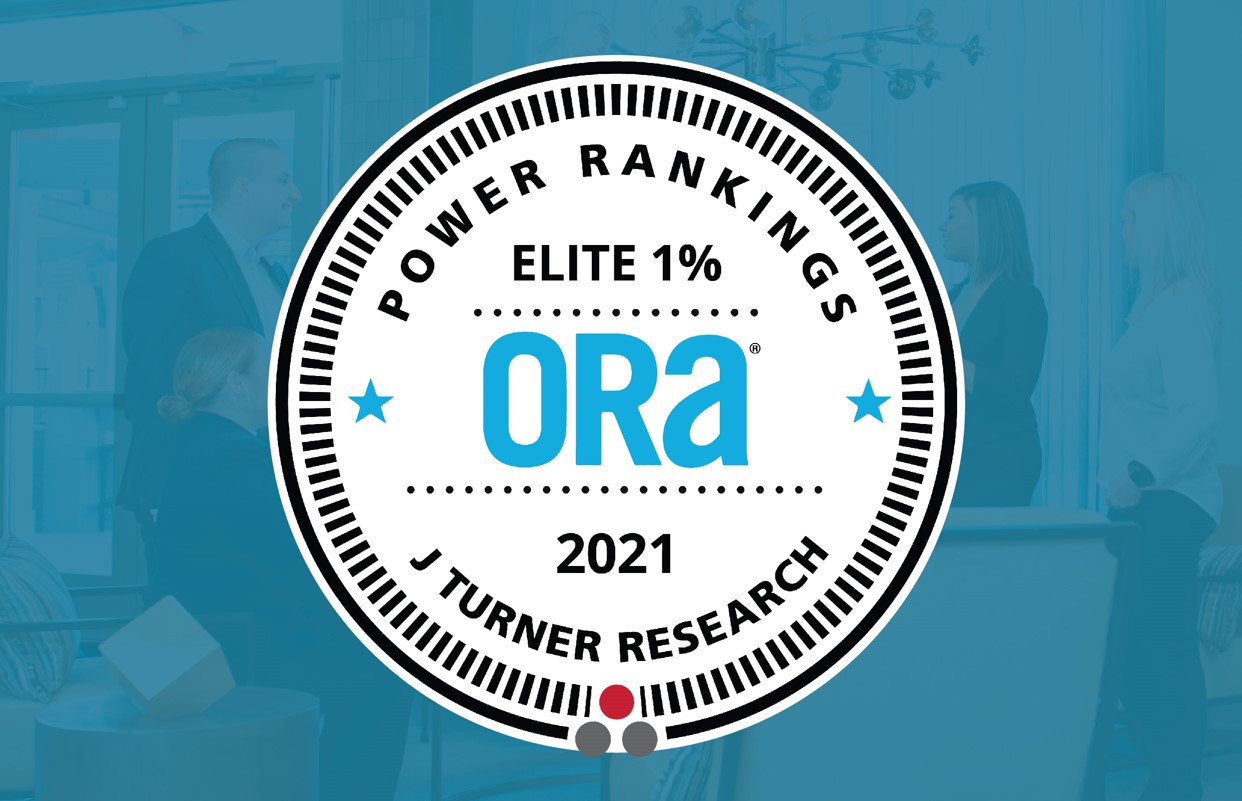 62 Communities ranked among the 2021 Elite 1% by J Turner Research
Hawthorne Residential Partners, a fully integrated multifamily investment, management, and development company of high-quality apartment properties, has been recognized for superior performance in online reputation in the multifamily industry. The company was honored with 62 properties among the Elite 1% in the nation by J Turner Research, the leading market research firm exclusively serving the multifamily industry. Just 1,547 properties in the country earned this distinction.
Over 38% of the Hawthorne portfolio ranks in the top 1% which is the greatest percentage of any management company's portfolio to do so, and the third-highest by volume.
Further, Hawthorne ranks #1 with the highest national average out of all NMHC Top 50 Managers with a December 2021 ORA score of 85.89, a 3.67-point increase over last year, and a score well above the current industry average of 62.62.
Developed by J Turner Research, the ORA® Power Ranking is based on monthly online reputation research of over 128,000 properties' lifetime reviews across multiple review sites and Internet Listing Services (ILSs). Based on a statistical model, J Turner assigns an independent Online Reputation Assessment Score (ORA®) to each property on a scale of 0-100. The ORA® Score determines a property's rank in the Elite 1% ranking. The ORA® score was developed by J Turner to simplify how online reputation is measured. It serves as the multifamily industry standard to measure a property's online reputation.
Of the 62 properties in the top 1%, nine (9) Hawthorne communities placed within the top 100:
Cottages at Knightdale Station (ORA 99, #7)
Hawthorne at the Hollow (ORA 98, #33)
Legends at Morganton Park (ORA 97, #60)
Hawthorne at Pine Forest (ORA 97, #63)
Hawthorne at Leland (ORA 97, #66)
Myrtle Landing Townhomes (ORA 97, #67)
Hawthorne at Weaverville (ORA 97, #72)
Legacy at Fire Tower (ORA 97, #83)
The Retreat at Juban (ORA 97, #89)
To be eligible for the 2021 Elite 1% ranking, a property had to register a minimum ORA® Score of 94 as of December 2021.  For properties with the same ORA® score, the property with the higher number of reviews ranked higher.
"We are honored to be named by J Turner Research as a Top Manager and proud of the 62 communities that made the Elite 1% list," said Samantha Davenport, Principal and President of Hawthorne Residential Partners. "It takes an entire team to win over residents and we are thrilled with the team members who accomplished this during a year as challenging as 2021. We believe in leaving people better than you found them and this award is a true testament to our 'Live It' mindset. It's a huge achievement for even a single property. And that makes having 62 on the list even more special."
ABOUT HAWTHORNE RESIDENTIAL PARTNERS
Hawthorne Residential Partners is a fully integrated, multifamily investment, management, and development firm. Headquartered in Greensboro, NC, Hawthorne manages over 165 communities and 40,000 units across eight states in the Southeast and Texas. Hawthorne has a robust investment and management platform, operating a portfolio valued over $8B. The company was founded in 2009 based on the "Live It" difference — a daily commitment to go above and beyond for associates, partners, and the thousands of individuals that are proud to call a Hawthorne community home. To learn more, visit www.hrpliving.com.
ABOUT J TURNER RESEARCH
J Turner Research is the leading full-circle online reputation management firm that empowers clients with data to drive revenue. J Turner pioneered the Online Reputation Assessment™ (ORA®) score, which serves as the industry standard for measuring a property's online reputation. The company's unique 360-degree process enables multifamily clients to enhance resident satisfaction, increase closing ratios, and improve online reputation. For more information, please visit https://www.jturnerresearch.com/.
previous article
next article