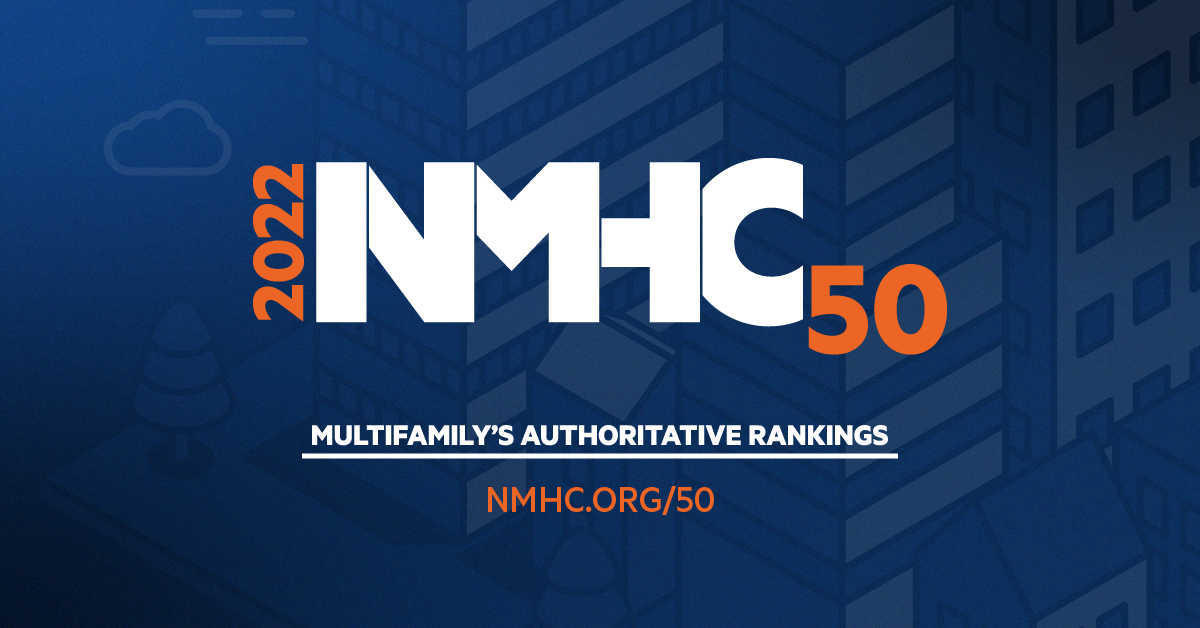 Hawthorne Residential Partners, a fully integrated multifamily investment, management, and development company of high-quality apartment properties, earned national recognition today by making the National Multifamily Housing Council's (NMHC) 2022 NMHC Top 50, the annual ranking of the nation's largest apartment owners, managers, developers, builders, and syndicators. Hawthorne ranks as the 40th largest management firm in the nation. As of January 2022, Hawthorne proudly managed 40,698 units across eight states, an increase of over 11% from January 2021 and over 27% from January 2020. Currently, the firm manages over 42,000 units across 180+ properties.
This year marks the 33rd edition of the NMHC Top 50 lists. NMHC partners with Kingsley Associates, a leading real estate research and consulting firm for the NMHC 50's research and analysis. All apartment owners, managers, developers, builders, and syndicators are invited to answer a survey questionnaire that asks about their prior year activities. Apartment owners, managers, and syndicators are ranked based on their portfolio holdings (either owned or managed) as of January 1, 2022, while developers and builders are ranked based on the number of units started in 2021.
For more details about the NMHC 50, visit nmhc.org/The-NMHC-50/.
ABOUT HAWTHORNE RESIDENTIAL PARTNERS
Hawthorne Residential Partners is a fully integrated, multifamily investment, management, and development firm. Headquartered in Greensboro, NC, Hawthorne manages over 180 communities and 42,000 units across eight states in the Southeast and Texas. Hawthorne has a robust investment and management platform, operating a portfolio valued over $8.5B. The company was founded in 2009 based on the "Live It" difference — a daily commitment to go above and beyond for associates, partners, and the thousands of individuals that are proud to call a Hawthorne community home. To learn more, visit www.hrpliving.com.
ABOUT NMHC
Based in Washington, D.C., the National Multifamily Housing Council (NMHC) is the leadership of the trillion-dollar apartment industry. We bring together the prominent owners, managers and developers who help create thriving communities by providing apartment homes for 40 million Americans. NMHC provides a forum for insight, advocacy and action that enables both members and the communities they help build to thrive. For more information, contact NMHC at 202/974-2300, email the Council at info@nmhc.org, or visit NMHC's website at nmhc.org.
previous article
next article